Theme Editor overview
In this article, we will cover an overview of the Theme Editor and how you can control different sections of your site.
Keep in mind that not all themes have the same features, we will cover here the main site sections and the most common features.
You can launch the Theme Editor by clicking on the Customize button on your preferred theme on the Online Site > Themes page.
The Theme Editor has three main sections: website preview area, top menu buttons, and left control tabs.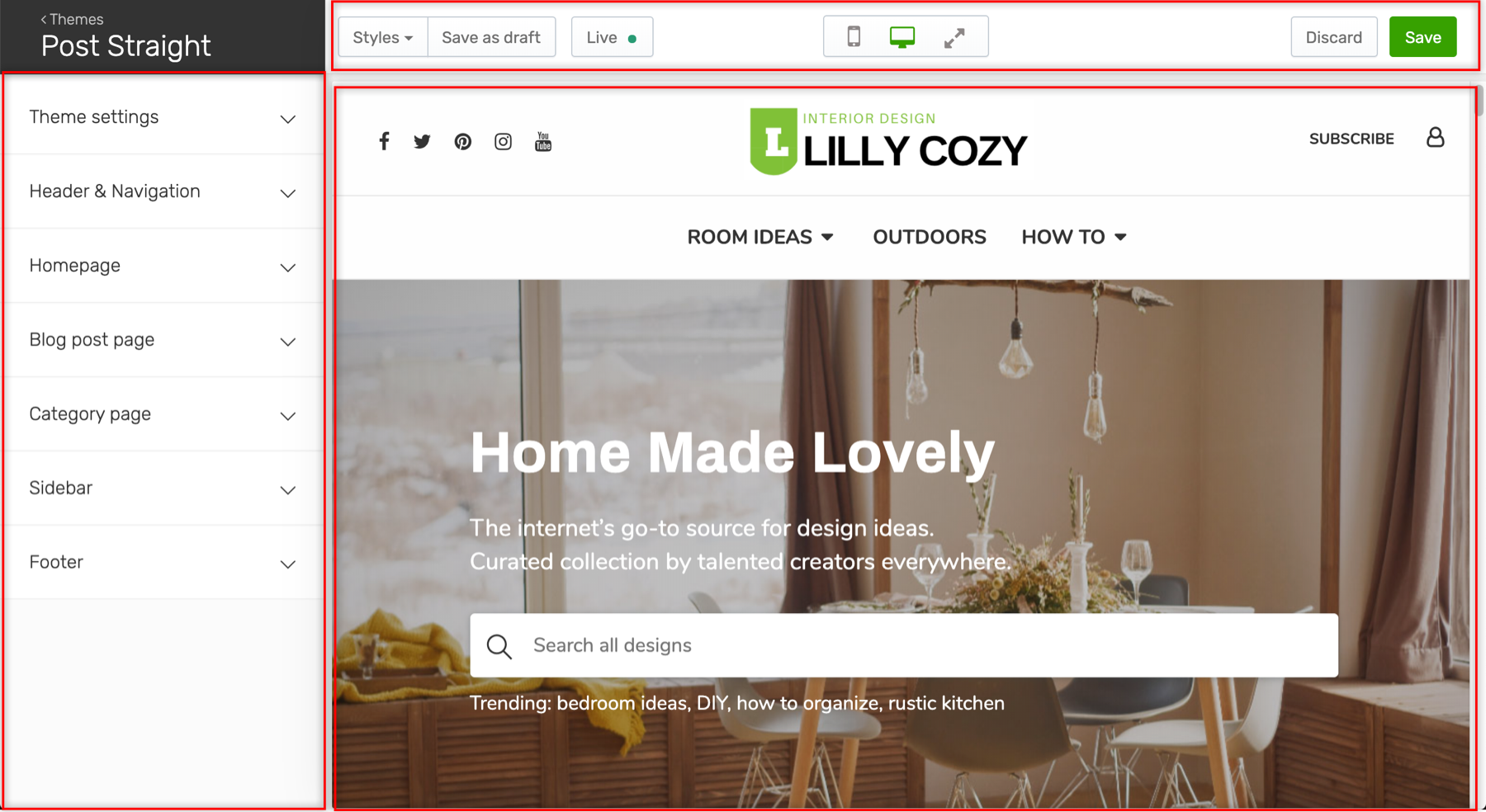 1- Website preview area
This area loads a preview of your website every time you make a new change on the left control tabs or on the top menu buttons. This is helpful, as you can see all the changes before you save and make it live for your website visitors.
2- Top menu buttons
The top menu allows you to perform multiple actions.

Style: Every theme has at least two default styles. When you switch between styles, the colours and layout of your website will look different.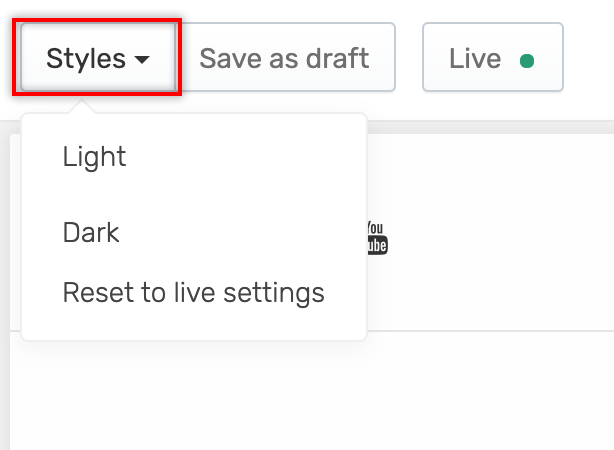 You can use one of the available styles or you can set your own colours and layout from the left control tabs.
If at any time you made changes to your theme and you want to go back to your live settings, and before you save, just click on the Reset to live settings on the style dropdown menu.
Save as a draft: You can save your changes as a draft and continue editing your theme later. Clicking on this button will remove any previous drafts and will create a new draft with the current editor settings.

Devices: You can choose to preview how your website looks on different screen sizes.

Save: When you finish all your editing and are ready to publish the new changes, click on the Save button and your changes will be live to your website visitors.
If you want to cancel the new changes, click on the Discard button. This will remove all changes and will load a preview of your live website.
3- Left control tabs
The left panel is the area where you control the colour and settings of your theme.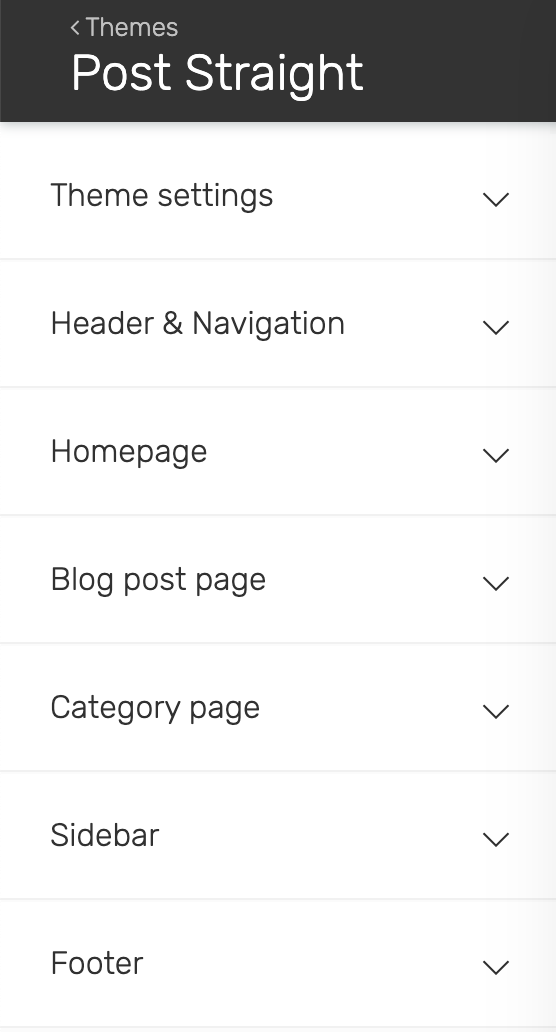 Theme settings: In most themes, this section allows you to change colours, fonts, thumbnail style, upload favicon, theme direction, whether it is left to right or right to left, and social media links that appear on the header or the footer of your website.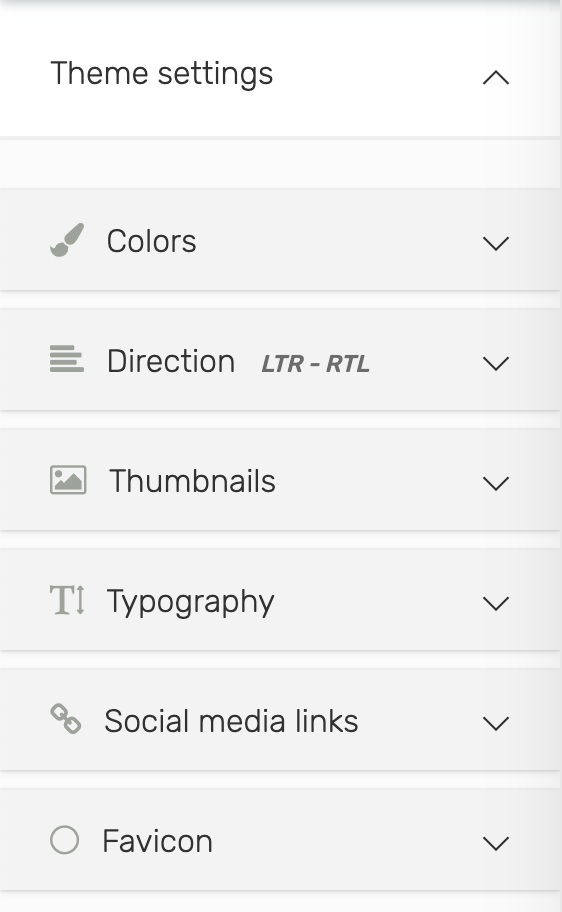 Header & Navigation: Here you can upload your logo image, customize the Hero Search section and set up the Announcement bar.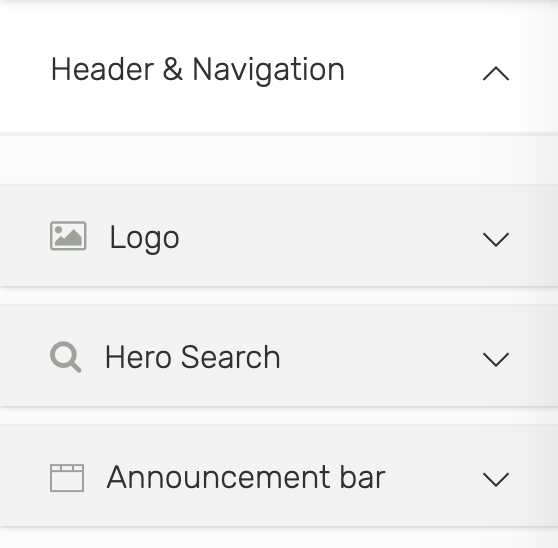 Homepage: Here you can customize your homepage, set the number of posts to display and how to sort them. Configure how your website visitors see more posts on the homepage, you can choose between Pagination, Load More Button, Infinite Scroll or to disable.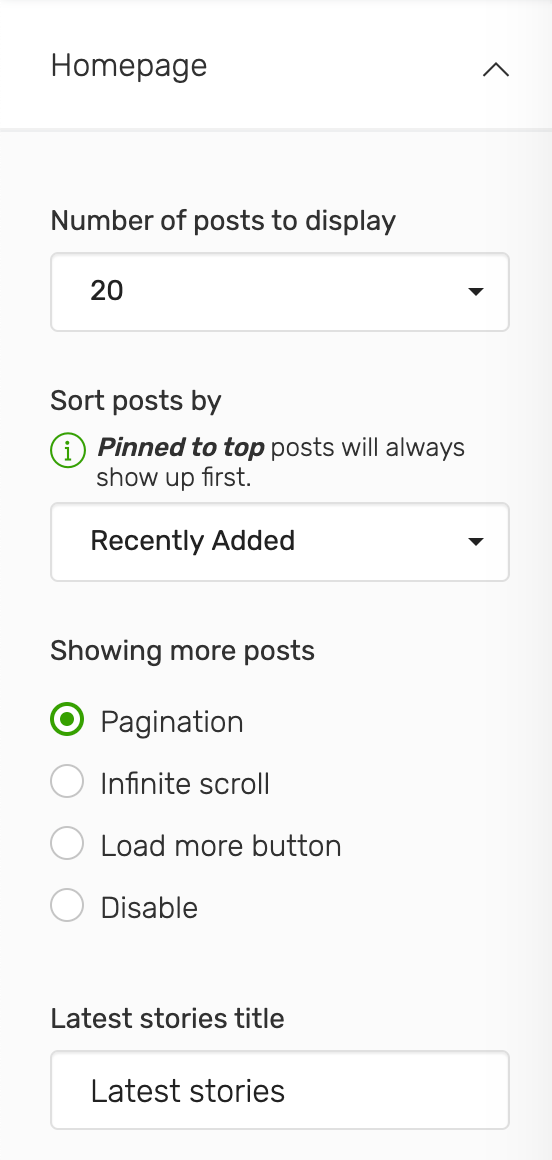 In the Homepage tab, you can set the Featured categories, these are a set of categories that you choose to feature on the homepage, they are displayed at the end of the homepage.
Each category will be displayed by its title and a number of posts. Here you can control whether you want to show or disable this section, the number of posts to display with each category and the post sorting.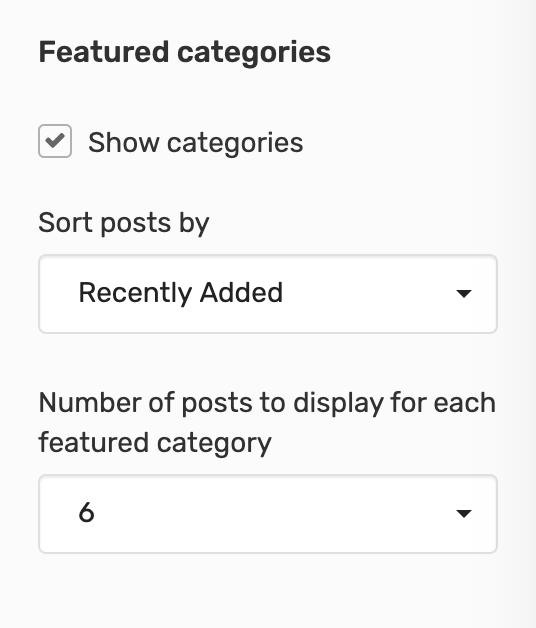 Blog post page: Set up the information that you want to display on all blog post pages, choose which social media share buttons to display, and configure the Related posts section.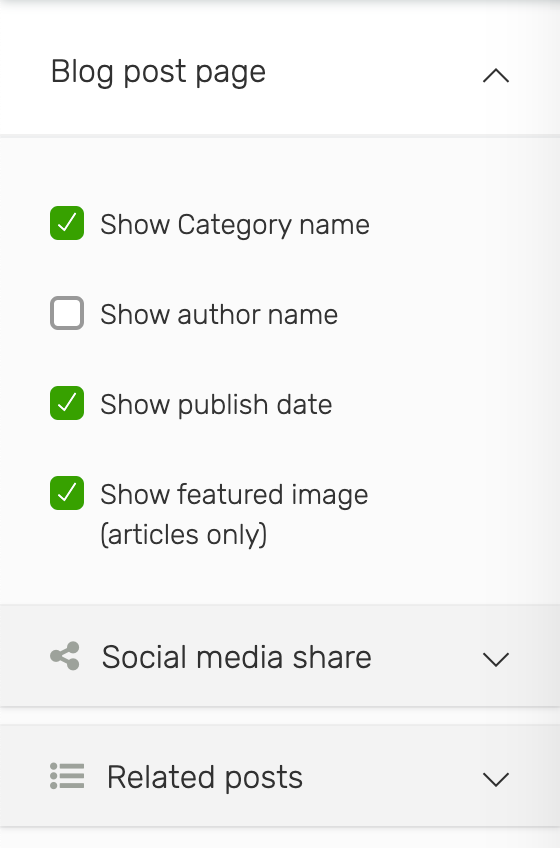 Category page: set up the pagination, post sorting and Related Categories.
Related categories(sub-categories) are a set of categories that you choose to show on this category page as related categories.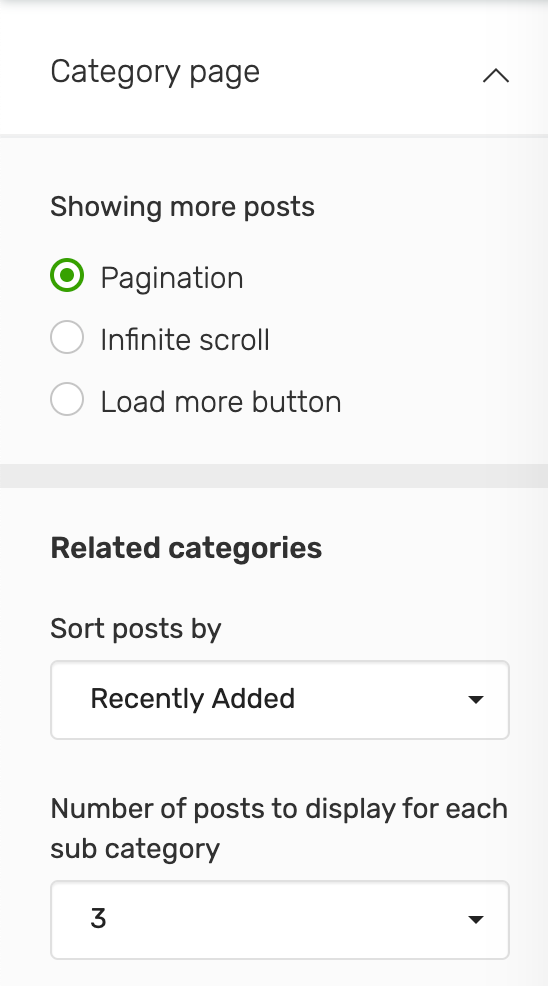 Sidebar: Here you can enable or disable the sidebar on your website, you can also choose to disable it on certain pages only.
There are multiple widgets that you can display on the Sidebar, you can configure each widget by clicking on the widget title. To order widgets, drag any widget and drop it in the preferred order.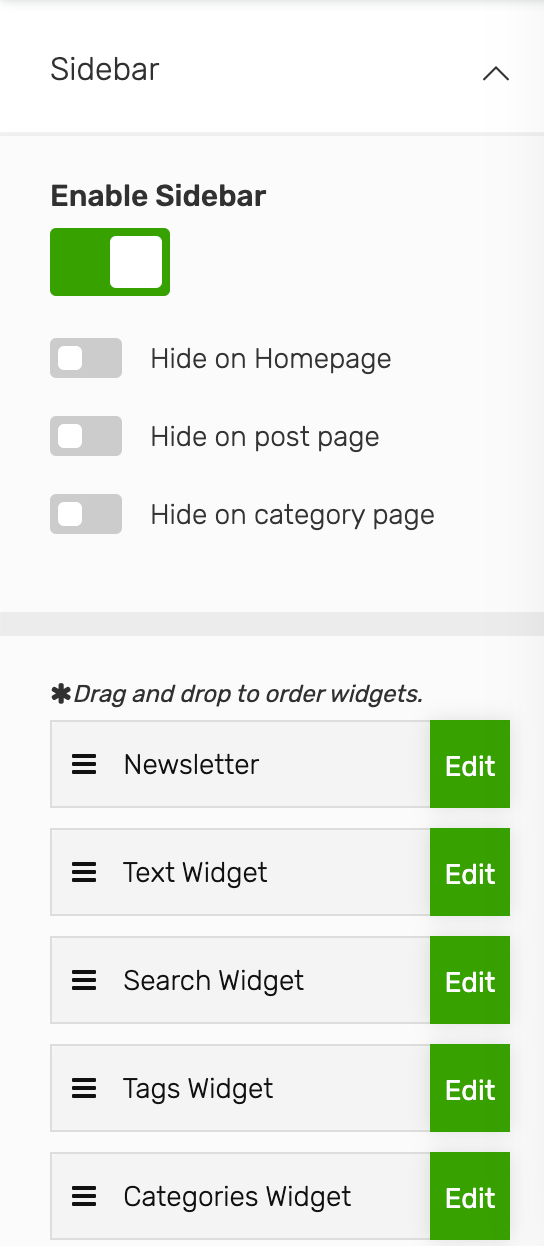 Footer: In this tab, you can insert links to the Privacy policy and Terms of use pages, and they will be displayed automatically on the footer of your website.